San Bernardino Black Culture Foundation Annual Black Rose Awards
The members of the San Bernardino Black Culture Foundation were having its monthly meeting twenty-two years ago when Jim King talked about recognizing our unsung heroes.  Everyone agreed with him so Jeff Hill and Dr. Juanita Scott volunteered to be part of the committee to get this project moving.  It was immediately decided that this event would take place in September so that it would not interfere with any other major event that had been planned.  Route 66 was not a major event at that time.  Since our unsung heroes are solemn and want to give back without getting the recognition they deserve, Jim felt the recognition should be represented by a hand giving hope.  This idea of Jim came about as he thought about his relationship with his grandmother whose hands he remembered as a young child and while holding him, he felt safe and that she was his hero.  Jim also talked about the negative aspects of black such as the cowboy with the black hat always lost the fight and the fugitives always rode on the black horses.  He also felt that roses are beautiful and delightful and a black rose would be just as beautiful.
The membership endorsed the recommendation from Jim. A new idea was born.  The black rose has been used every since to recognize those who have given so much to make our communities a better place to live.
PRESS RELEASE
San Bernardino Black Culture Foundation will like to congratulate 2018 Humanitarian, Community Service and Black Rose Awards recipients.
Humanitarian of the Year – 

Chehab

 & 

Bricia

 

Elawar
Community Service – Rev. Reginald Woods
Black Rose – Richard 
Goldson
Black Rose – Jonathan 
Buffong
Black Rose – Ezekiel 
Adeleke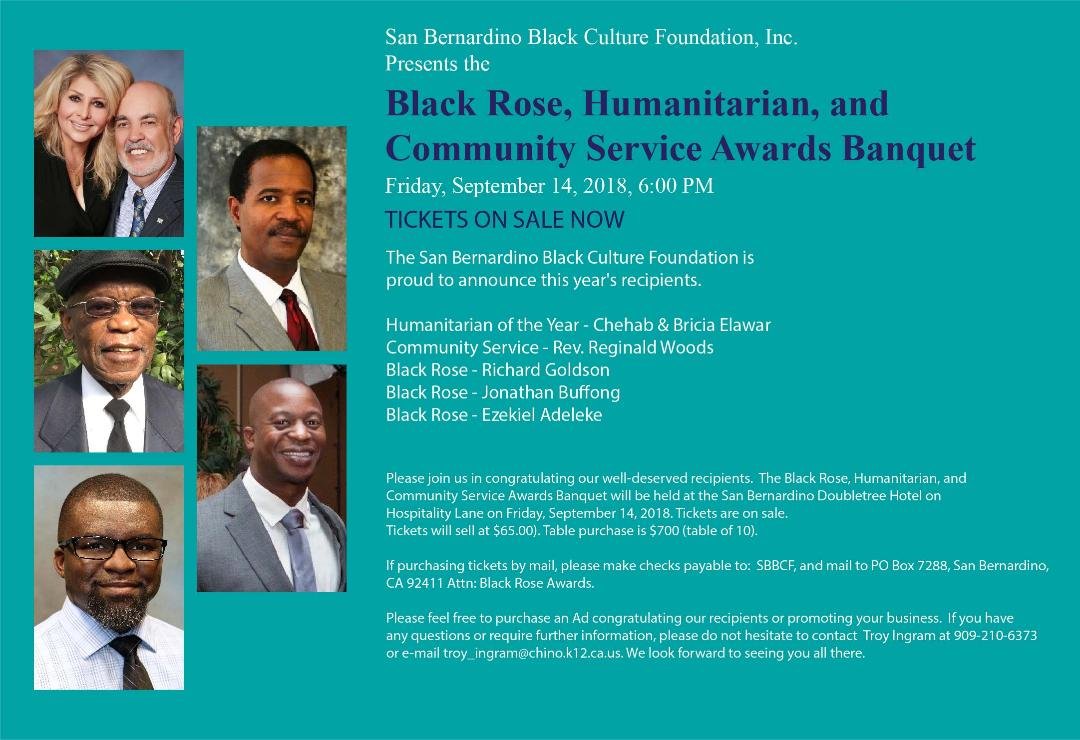 San Bernardino Black Culture Foundation is honoring several unsung heroes for their volunteer efforts. The individuals below did not seek recognition; friends, co-workers, family
members or neighbors recommended them. A formal recognition will take place Friday,
September 8, 2017, at the National Orange Show, San Bernardino. These unsung heroes are:
PRESS RELEASE
San Bernardino Black Culture Foundation will like to congratulate 2017 Humanitarian, Community Service and Black Rose Awards recipients.
Community Service Award
Black Rose Award
The cost of the ticket is $65 per person for dinner/banquet
or
$6
50.00 for a table of ten (10)
.
You may obtain tickets by contacting Mrs. Margaret Hill or looking us up on Facebook
If you have any questions, please do not hesitate to contact Troy Ingram
,
President, at (909)-
210-6373 or leave a message at 909-888-1696. We look forward to having you join us.
San Bernardino Black Culture Foundation will like to congratulate 2016 Humanitarian, Community Service and Black Rose Awards recipients.
Ted Alejandre – Humanitarian Award
Damon Alexander – Community Service Award
Barbara A. McGee – Black Rose Award
Lelia D. Robertson – Black Rose Award
Marcus Wilkerson – Black Rose Award
Darin Graham – Black Rose Award
PRESS RELEASE
The San Bernardino Black Culture Foundation is happy to announce the winners of the 26th Annual Humanitarian of the Year, Commitment to Community Service and Black Rose Awards. Being honored are:
Humanitarian of the Year
Kim Evette Anthony
Kim has given tirelessly of herself, using her skills and abilities to help others. Much of her work is on a pro bono basis because of her unrelenting commitment to serving her community. She has provided countless number of volunteer hours providing services to nonprofit and community based organizations including Stop the Violence Foundation and the establishment of the Regional Violence Prevention Coalition. She volunteered with the Red Cross in Houston, TX serving and supporting displaced Hurricane Katrina survivors. A product of the foster care system, Kim spent fourteen months during her reign as Ms. California delivering motivational speaking and raising funds and awareness for the plight of foster children and at-risk youth.
Commitment to Community Service
David Clark
David, a retired military person, volunteers his time at March Air Force Base assisting retirees with their retirement and other benefits. He also assist the families of the deceased, making sure they get the paperwork needed for proper burial. In addition, he mentors students at San Gorgonio High School as well as the youth and young adults at his church. He transport church members and neighbors to doctor appointments and the grocery stores and is involved in the food and toy outreach for the citizens on the west side of the city. He ministers to the residences of Highland Palms Residential Living and when the senior citizens ask for special food and clothing, he purchases them with his own funds.
Black Rose
Chief Joseph Paulino
Chief  Joseph Paulino makes sure that over 50,000 students are safe each day and has implemented an explorer program for the middle and high school students in the district. He still finds time to provide service to his community. He is a member of 100 Black Men of the Inland Empire and recently, he hosted a Searching of Mentors Summit at California State University, San Bernardino. He volunteers his time with the annual Christmas toy giveaway, safety fairs, and positive tickets program.
Black Rose
Chino Fire Foundation
The Chino Fire Foundation is a non-profit organization dedicated to promoting the safety and welfare of the public through educational programs, direct assistance, and financial support of charitable organizations, victims of tragic events and injured firefighters. Their Adopt a Family program makes funds available to families that have suffered personal tragedy such as an un-expected death or a fire-related loss.
Black Rose
Officer Marcus Pesquera
Officer Pesquera was in training when early one morning, he and his fellow officer approach a few individuals who appeared to have suspicious behavior. Officer Pesquera's quick thinking saved the lives of both men. Unfortunately, his fellow officer was critically wounded but Officer Pesquera was able to save both lives. He volunteers in his community at the firing range and his skills enabled him to protect the citizens of San Bernardino.
The San Bernardino Black Culture Foundation, Inc., the 26th Annual Black Rose & Humanitarian of the Year Community Service Award Banquet was held on September 11, 2015 at 6:00pm the National Orange Show in San Bernardino, California.
25th Annual Black Rose Awards will take place on September 12 2014
The San Bernardino Black Culture Foundation is proud to announce to the community the recipients for the 25th Annual Black Rose Awards:
BLACK ROSE WINNERS
1st Annual – 1990 Humanitarian of the Year – Jim King
Black Rose: Arrowhead Elks Lodge #896, Social Lites, Inc.
John A. Barber Lodge #71 F&AM, Swans Club
National Council of Negro Women, Westside Action Group
Prince Hall Lodge #17 F&AM
2nd Annual – 1991 Humanitarian of the Year – Myrtle Ross
Black Rose: Alpha Kappa Alpha, Delta Rho
Samaritan House, Cosmos Club-Dorothy Inghram
3rd Annual – 1992 Humanitarian of the Year – Lois Carson
Black Rose: Cheryl Brown, Irene Gibbs, Mr. & Mrs. Cleo Cain
Alpha Phi Alpha, Dukes, Dukes, & Associates
4th Annual – 1993 Humanitarian of the Year – Edna E. Davis Herring &
Jack Clark
Black Rose: Michael Johnson, People's Choice
Ida N. Roberson, Marion Black
5th Annual – 1994 Humanitarian of the Year – Georgia F. Morris
Black Rose: Connie Garrett, Margaret Hill, Faye Pointer
Audree Jones-Taylor, Self Education Law Enforcement (SELF)
6th Annual – 1995 Humanitarian of the Year Charles Seymour
Black Rose: DARE Program, Mansie Booker, Jr., Wilbur D. Brown
Joann Parker, Pastor Raymond Turner
New Hope Missionary Baptist Church Summer Youth Employment Program
7 Annual – 1996 Humanitarian th of the Year Clarence Goodwin
Black Rose: Capt. Robert S. Bailes, Denise K. Benton, Wilhelmina Ricks
George H. Small, M.D., Walter "Duke" Snyder
8th Annual – 1997 Humanitarian of the Year Jewell Rabb
Black Rose: Pastor Joshua Beckley, Glenda Barnett, Duneen DeBruhl
Msgt Wayne E. Harkley, Hortense Hunn
Phenix Information Center-Joanne & Faron Roberts
9th Annual – 1998 Humanitarian of the Year Jimmy Jews
Black Rose: Troy Adams, Felton Anderson, Jack Hill, Beverly Jones Wright
Delyne McCampbell, Judy White, Ed.D
10th Annual- 1999 Humanitarian of the Year Roylestine Bowman &
Elizabeth Wilson
Black Rose: Dorothy Inghram, Ever James
Robert Hampton, Carolyn Tillman
11th Annual – 2000 Humanitarian of the Year Dorothy Lee Grant
Black Rose: Michele Carter, Elisa Woolford, Herbert R. Fischer, Ed.D
Julian Weaver, Dr. Ernest & Christine Levister
12th Annual – 2001 Humanitarian of the Year Patricia Tyler
Black Rose: Aaliyah Abdullah, Rabbi Hillel Cohn, Judge Patrick Morris
Linda Smith, Danny Tillman
13th Annual – 2002 Humanitarian of the Year Dennis Byas
Black Rose: Ray Culberson, Dr. Ernest B. Dowdy, Jr.,Thomas J. Gueston, Jr.
Clifford Hackney, Precious Wesley, Carmen Novella Webster
14th Annual – 2003 Humanitarian of the Year Carl Clemons
Black Rose: Valeria Dixon, Kimberly Epps, Sherman Garnett
Dr. Mildred D. Henry, Ph.D, Keith Lee, John Longville
15th Annual – 2004 Humanitarian of the Year Jack Hill
Black Rose: Maurice Calderon, Major Jornal Miller
Patricia Nickols, Will Roberts, Ph.D.
16th Annual – 2005 Humanitarian of the Year Belva Holder
Black Rose: Arturo Delgado, Ed.D, Gwen Knotts, Roosevelt Lett
Johnnie McKay, Caroline Swinton, Sgt. Paul Williams
17th Annual – 2006 Humanitarian of the Year Artist Gilbert
2006 Commitment to Service Veatrice Jews
Black Rose: Heck Thomas, Pastor Willie Ulibarri
Otis F. Clopton, Alton C. Green, Rev. Bronica Nettles Martindale
18TH Annual – 2007 Humanitarian of the Year Mary McKinney
2007 Commitment to Service Reginald Beamon
Black Rose: Kim Carter, Dr. Al Karnig, Brenda Dowdy, Lola Lee
Carl Jones, Dixie Jourdan, Project Impact
19th Annual – 2008 Humanitarian of the Year James McCombs
2008 Commitment to Service Rev. Gwendolyn Rose
Black Rose: Lea Cash, Roy Mabry, Dr. Paulette Brown-Hinds
Beulah Pitts, Terrance Stone, Velda Griffin
20th Annual – 2009 Humanitarian of the Year Cordelia Revels
2009 Commitment to Service Award Frank Washington III
2009 Jim King Special Community Award Brian Townsend
Black Rose: James Ramos, Wilmer Amina Carter, Norm Nunez, Mark Seay, Terry Boykins, Kent Paxton, Kenneth Wells, V. Diane Woods, Astride Mickens, Hilda Kennedy, Bobby Vega, Wil Greer, Jeffrey Johnston, Mary Potts, Radiant Rubies of Highland, Dina Walker, Calvin White
21st Annual – 2010 Humanitarian of the Year Dorthey Gray
2010 Commitment to Service Award Rev. Floyd Lofton
Black Rose: Joseph Williams, Sam Handley, Will Larkin, Janice Higgins
Pastor Larry Campbell
22nd Annual – 2011 Humanitarian of the Year Dr. Harold Cebrun
2011 Commitment to Service Award James Butts
Black Rose: Jennifer Vaughn-Blakely, Jimmie Brown, Herb English, Jr., John Futch
Dr. Queen Hamilton, Geraldine Reaves, Mark Campbell, Vicki Lee
23rd Annual – 2012 Humanitarian of the Year Frances Grice
2012 Commitment to Service Award Michael Lexion
Black Rose: Annie Upshaw, Anne Viricel, Joyce Payne, Shannon O'Brien
24th Annual – 2013 Humanitarian of the Year A Majadi
2013 Commitment to Service Award Ron Cochran
Black Rose: Eula Charles, Miriam Vickers, Keyisha Holmes, Judge Richard Fields
Kennon Mitchell, Ed.D, Pastor Robert Fairley, George Bowser, Anita Dimery